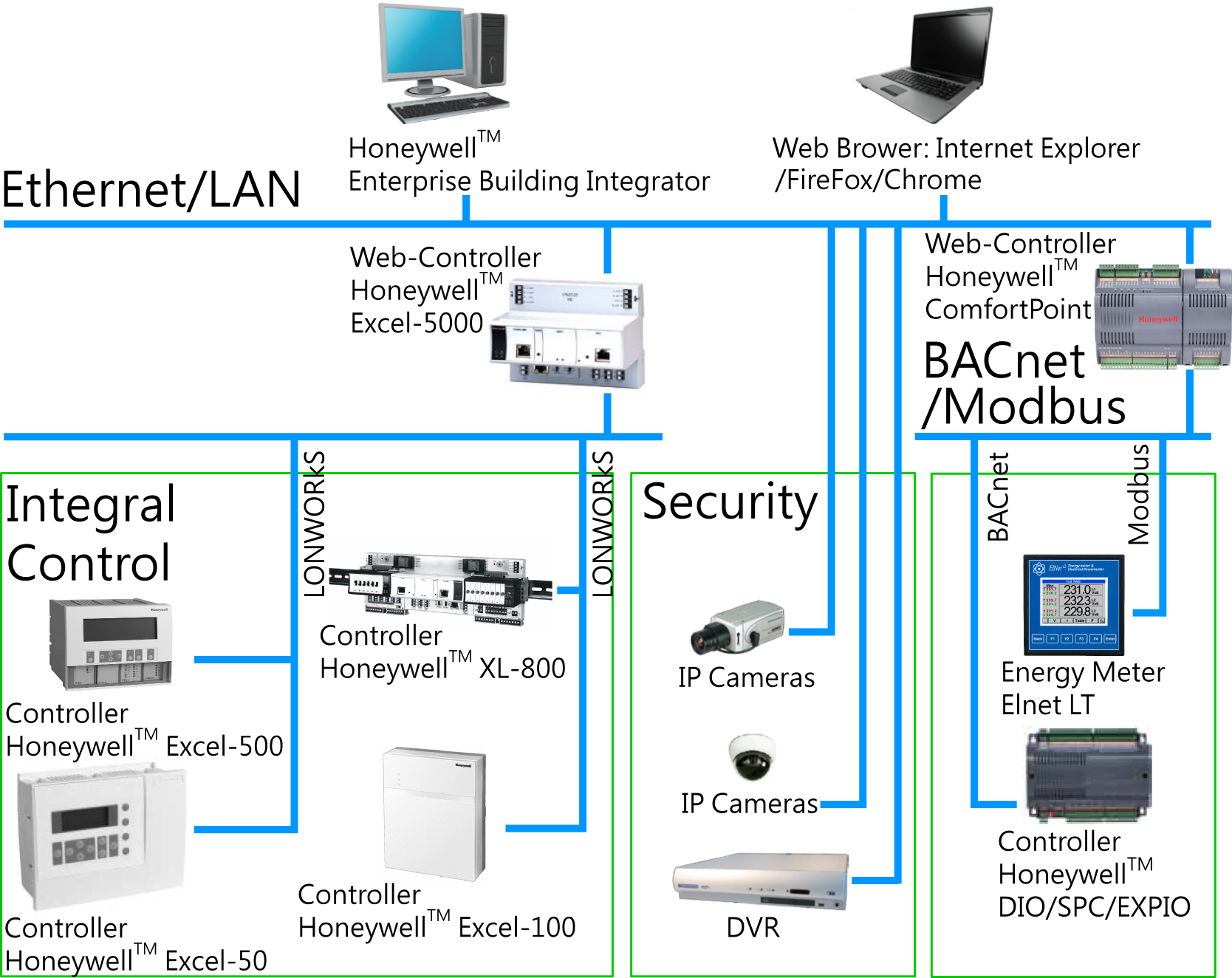 Features
Honeywell Enterprise Building Integrator (EBI) has been well-known building automation system for over 20 years and now Enterprise Building Integrator is keeping its evolution to support numerous products. Allied Success provides solutions especially in HVAC Control with management functions by integrating controllers either Excel-5000, or Comfort Point.
Excel-5000 supports C-Bus and LONWORKS protocol and performs high system stability by its´ series main feature, the Man-Machine-Interface (MMI) either embedded in Excel-50 or as independent device is still flexible to monitor and control even without the Enterprise Building Integrator (EBI). Alternatively, Comfort Point supports communication methods in BACnet and Modbus and it is one of products in focus for functions expansion among Honeywell controllers in America. The functions of Comfort Point are going to be expanded for independent energy monitoring by BACnet IP throughout Web Browsers.
Honeywell Enterprise Building Integrator (EBI) has excellent alarm and report functions as the technology Microsoft Internet Information Services (IIS) and SQL are adopted to handle and save any fault reported by Controllers and events established by users. Honeywell Enterprise Building Integrator (EBI) provides open interface users to customize their own style reports.
Customized User Interface
Please view our works on user-interface as either a preview or demonstration the way of the building automation works. Honeywell Enterprise Building Integrator (EBI) with Excel-500 is commonly applied in large-scale projects such as Casino, Commercial Centre and Residential Estate, whereas Comfort Point is usually applied in Shopping Centre and Logistic Building.